Dr Andrew McGovern and Dr Luci Butler's trip to Ghana:
Fundraising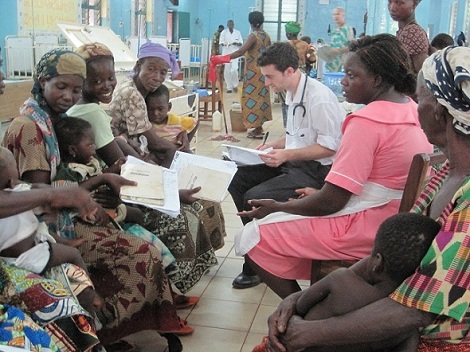 Morning ward round on the children's ward at BMC.

Thank you for visiting our fundraising page. In August this summer we are going to the Baptist Medical Center in Nalerigu, Ghana to volunteer at the hospital. This village hospital is the only one of it's kind for many miles around and is a lifeline for the local community. Resources are stretched and there is always a need for help and supplies. We will be working there for a total of six months and hope to collect some money to buy much needed medical equiptment. This will include:

Suture material (for stitching wounds)
Urine dip tests and pregnancy tests
Blood sugar testing kits
Examination gloves
and many other diagnostic tools and medical essentials.

Where possible we intend to take supplies and equipment that are reusable and will last. Every donation made, however small, really will make a difference. If you feel able to help us please donate via the PayPal button below.
Many thanks for your support,
Andy and Luci





Because our work is not being done through an established charity we are unfortunately unable accept donations through websites such as justgiving.co.uk. Any surplus funds will be donated to the George Faile Foundation which also supports the hospital. If you have any questions or comments please contact us via the email address above, we would be pleased to hear from you.
Main pages
Site links